Isolate harmonics before they can destroy your engine.
If you are breaking crankshafts and oil pumps, the cause may be a mystery to you as it has been to many of our customers. We know that controlling the harmonic resonance of the BMW 6 is highly important as RPMs rise, but the ideal configuration of the inline-6 motor makes even experienced engine builders overlook some fundamental principals of engine harmonics that can be destructive.
FACT: harmonics CAN destroy these motors despite their ideal 'inline six' balance. Popular word on the street says the OEM units do not fail, but we have dozens of clients who prove otherwise. Some racers would bring a few spare units to each event -not any more. Simply fitting their engines with the VAC damper solved their issue and restored confidence in the powertrain.

ATI Performance Products, a leader in harmonic dampers has developed a VAC exclusive damper for the S50B30 EURO engine.
These VAC exclusive dampers eliminate nearly all unstable crankshaft harmonic vibration which allows the engine to produce more horsepower and torque, maintain reliability and ensure internal engine wear in minimized.
When used with our included VAC Pulley, this is a direct bolt on solution. Available in overdrive, underdrive (for use with standard size pulleys) or standard diameter (for use with under driven accessories, or supercharged cars). Also, configurations available for use with our dry sump kits.  This damper has a 7" outer diameter and it includes OEM style timing alignment tabs.
VAC's ATI Super Dampers exceed SFI 18.1 Safety Certification and are approved for competition
Made in USA
Eliminate problems with inline 6s fit with lightweight clutch and flywheel assemblies
Control destructive harmonic forces
Reduces instances of bearing wear, accessory failure and oil pump failure
Includes lightweight VAC Billet Crankshaft Pulley
ATI Performance Products, Inc. is located in Baltimore, MD, and specializes in producing and maintaining high performance products for street and strip applications. Over the years ATI has earned a reputation for its cutting edge technology, attention to detail and rigorous testing under race conditions. We are proud to have them as an exclusive partner in these BMW applications.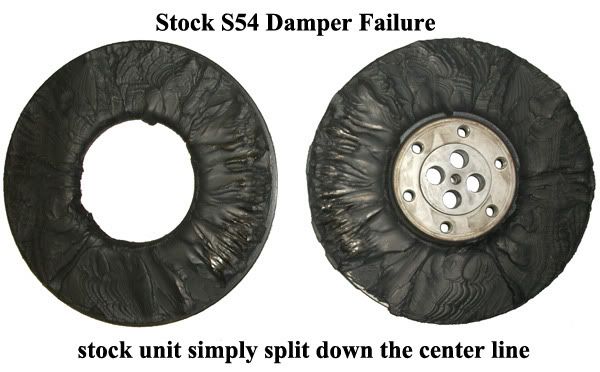 Part#

Fits

 

Parts in Kit

 

VAC-HPCD-S50E-STD

S50B30 Euro

849.95

-ATI S50 Euro Damper with Trigger

 
 
 

200

-VAC Overdrive Crank Pulley

 
 
 

Total  $1049.95

-Instructions

 
 
 
 
 
 
 
 
 
 
 

VAC-HPCD-S50E-UD-OE

S50B30 Euro

849.95

-ATI S50 Euro Damper with Trigger

 
 
 

150

-VAC Standard Crank Pulley with AC

 
 
 

Total  $999.95

-Instructions

 
 
 
 
 
 

VAC-HPCD-S50E-UD

S50B30 Euro

849.95

-ATI S50 Euro Damper with Trigger

 
 
 

250

-VAC Underdrive Crank Pulley

 
 
 

Total  $1099.95

-(6) x M8-1.25x25mm SHCS

 
 
 
 

-(6) x M8 Washers

 
 
 
 

-Instructions