Weber - 40 DCOE Carburetor (40mm)
$578.48
Purchase Weber - 40 DCOE Carburetor (40mm)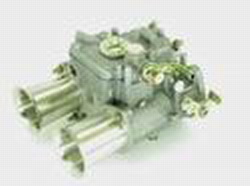 Why fuss with old carbs? Get the most power, drivability, and reliability with new WEBER CARBURETORS.
We offer a variety of Weber Carbs at competitive prices.
With a Grand Prix Racing heritage, the venerable DCOE continues to be Weber's premier Carburetor, and is still the standard by which all other carburetors are measured today.
Unsurpassed for full-race use, its infinite tune-ability by way of interchangeable calibrated parts allows it to be tailored to suit any engine and application. Hardly enough can be said about the DCOE. Its features include: ball bearing throttle shafts, piston type accelerators pump circuits, a wide variety of throttle bore sizes.. and, of course, the excellence that is Weber.
When power and street use, or a mild race engine is assembled; many turn to the classic 40 DCOE!
All of our Webbers are from the USA master distributor to guarantee your not getting any second runs, or unauthorized units.
Sold as (1) Side Draft Carburetor

Each DCOE Webber ships complete with parts as shown; with Chokes and Jets to get you in the ball park when tuning, and the Velocity Stacks shown.

Webbers are sold as universal parts; please note that you will likely need an install kit for your specific application.
VAC Tech Notes about selecting carbs:
-One of the common problems with side-draft carbs is the choice of: 1) The carb size, and 2) The choke size.
Carb sizing and correct choke selection should be determined by the engines fuel requirements based on air flow potential. A larger carb does not equal more power unless the engine needs more fuel then the smaller car can supply.
-Carb selection should be done after you know, or can expect the flow characteristics of your cylinder head & engine.
-Much information is available on the web for applications to specific BMW configurations. You may simply call or email us to place and order if you need us to help with size selection.
-Perhaps the best way to aid with Carb selection: a 40mm DCOE with 32mm chokes will flow more air than a 45DCOE with the 32mm chokes! Therefore: select the correct carb for your application, then fine tune with the correct chokes.

Purchase Weber - 40 DCOE Carburetor (40mm)

Other products in the category Fuel System / Carburetors:













StoreFront | Wheels and Accessories | Engine Components | Engines - Racing | Fuel System | Oil System / Engine Lubrication | Forced Induction (Turbo, Supercharge, Accessories) | Other Manufactures (non-BMW) | Electronics & Tuning | Exterior, Body & Aerodynamics | Intake | Exhaust | Miscellaneous | Pit Equipment / Tools | Electrical | Services | Towing Equipment | Brakes | Suspension | Mini Cooper Catalog | Books, CDs, DVDs & Literature | Interior & Ergonomics | E82 / E87 - 1 Series Catalog | E30 M3 Catalog | Seats and Accessories | EZ-UP Canopies | Apparel | Cars For Sale | Clearance Items | Drivetrain | Fluids & Oil | Cooling System | Vehicle Track Timing Products | Used & Refurbished Parts | Dyno Tuning | Package Deals / Kits | Carbon Fiber Accessories | Factory 'BMW Performance' | Safety Equipment | Plumbing / Aeroquip | Great Gift Ideas | New Products | Roll Cage Kits | Spec Racing





BMW, Racing, Safety, Harnesses, Roll cage, Motorsport, Motorsports, Engine, Engines, Automobile, Auto, Autos, BMW Tuner, Tuner, Tuning, Chip, Chip Tuning, Custom Tuning, Dyno tune, OBD2 Tuning, Performance, BMW Performance, Ultimate, Ultimate driving machine, Machine shop, Camshafts, Cams, Head, Heads, port polish, Port and polish,
VAC Motorsports Online Store powered by Nexternal shopping cart software