VAC - Semi-Trailing Arm Rear Camber/ Toe Adjustment Kits
99.95
84.95
Purchase VAC - Semi-Trailing Arm Rear Camber/ Toe Adjustment Kits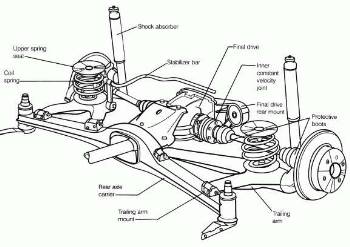 Finally; add Camber and Toe adjustment to your Classic BMW that stays put!
You love the dynamics and handling of your BMW but hate the fact you have no control over your rear camber or caster adjustment!
There is no doubt that having control over these adjustments makes the E30, Z3, E21 and other Semi-trailing Arm BMW's handle much, much better! However...
...Maybe you have tried 'Eccentric Bushings' in the past and have come to realize they cause more trouble then they are worth; always loosing their alignment and not fully solving the problem, and leaving you with only one choice of bushing material...
...Or, your lowering springs or coilovers get your right height where you want it, but now you have way too-much-camber! Again, your stuck with a willing chassis that just doesn't handle like it could!
With out proper alignment you will find your BMW will simply never perform at it's peak.


Here we offer our consistent and inexpensive kit that is welded on, providing a permanent and repeatable adjustable solution. This kit allows use of any replacement bushing material, from OEM rubber, Polyurethane or Delrin. You will gain easy camber and/or caster adjustment independent of your rear ride-height letting you and your BMW obtain awesome performance, neutral handling, and maximum grip.

Camber:
These weld on mounts replace the inboard semi-trailing arm pickup points and allow user adjustment of Camber.
Optimum camber for a given tire and driving scenario is very important for control; being a determining factor in both forward and lateral grip by allowing the chassis to fully utilizing the tires forward and lateral traction.

Toe:
These weld on mounts replace the outboard semi-trailing arm pickup points and allow user adjustment of Toe.
Normally used in addition to the adjustable camber kit, Toe settings can be used to aid in achieving the desired rear-end behavior of the car; adding more stability or giving a loser feeling, as well as insuring proper tire life.

Each Full Kit Includes:


Correct Adjustment brackets
Eccentrics
OEM BMW Bolts & Nuts for best reliability and adjustability

This Modification is applicable for the all E30 (inc M3), Z3, ///MZ3, Z1, and E36- ti/compact. It can also be modified to work with other BMWs including: 2002, E9, E24, E28, and E34

VAC Tech Tip
Removal of rear sub frame, welding and some grinding is required. Professional installation is recommended.

Purchase VAC - Semi-Trailing Arm Rear Camber/ Toe Adjustment Kits

Other products in the category Suspension / Other (Bushing, Mounts, Camber plates, Braces etc) / Control Arms:



































StoreFront | Wheels and Accessories | Engine Components | Engines - Racing | Fuel System | Oil System / Engine Lubrication | Forced Induction (Turbo, Supercharge, Accessories) | Other Manufactures (non-BMW) | Electronics & Tuning | Exterior, Body & Aerodynamics | Intake | Exhaust | Miscellaneous | Pit Equipment / Tools | Electrical | Services | Towing Equipment | Brakes | Suspension | Mini Cooper Catalog | Books, CDs, DVDs & Literature | Interior & Ergonomics | E82 / E87 - 1 Series Catalog | E30 M3 Catalog | Seats and Accessories | EZ-UP Canopies | Apparel | Cars For Sale | Clearance Items | Drivetrain | Fluids & Oil | Cooling System | Vehicle Track Timing Products | Used & Refurbished Parts | Dyno Tuning | Package Deals / Kits | Carbon Fiber Accessories | Factory 'BMW Performance' | Safety Equipment | Plumbing / Aeroquip | Great Gift Ideas | New Products | Roll Cage Kits | Spec Racing





BMW, Racing, Safety, Harnesses, Roll cage, Motorsport, Motorsports, Engine, Engines, Automobile, Auto, Autos, BMW Tuner, Tuner, Tuning, Chip, Chip Tuning, Custom Tuning, Dyno tune, OBD2 Tuning, Performance, BMW Performance, Ultimate, Ultimate driving machine, Machine shop, Camshafts, Cams, Head, Heads, port polish, Port and polish,
VAC Motorsports Online Store powered by Nexternal shopping cart software