VAC - S14 Stage 3 Performance Cylinder Head
$2949.95
Purchase VAC - S14 Stage 3 Performance Cylinder Head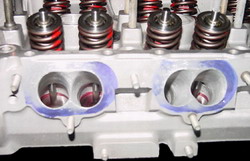 VAC's Stage 3 Performance Cylinder Heads are the ULTIMATE in cylinder head technology and performance, crafted with more than 50+ years experience in the racing field.
S14 E30 M3s with our standard Stage 3 cylinder heads and 2.5L Stroker Kit have made 330+ HP N/A! When fitted with all of our options, the latest revisions to our head design allows it to handily outperform both the Gruppe A and DTM heads by BMW.
We have spent many, many years on the dyno, the flow bench, and even more years though world-wide racing experience to achieve such excellent and reliable results, and we never ever stop improving our S14 technology.
Even though they are an extreme departure from stock, we have stage 3 heads for use on the ultimate street performance vehicle as well.
Our Stage 3 Cylinder Heads feature the following:
VAC Tech Tip:
A high performance engine works most efficiently with the broadest powerband when everything is designed to work together.
Stage 3 heads are VAC's pinnacle of R&D and this philosophy. NEW Option - CNC'd Combustion Chambers to DTM Spec - further unshrouding leads to more horsepower for 95mm Bore (or larger) engines
Purchase VAC - S14 Stage 3 Performance Cylinder Head
SKU: VAC-S3PCH-S14
Engine Tune: Street Use; Full Race Use; Turbocharger use
Retainer Type: Steel Alloy(Street or Race use); Titanium (Recomended for Race use only)
Engine Type: S14
Other products in the category Engine Components / Cylinder Heads - VAC / 4 Cyl BMW Cylinder Heads / S14:


StoreFront
|
Wheels and Accessories
|
Engine Components
|
Engines - Racing
|
Fuel System
|
Oil System / Engine Lubrication
|
Forced Induction (Turbo, Supercharge, Accessories)
|
Other Manufactures (non-BMW)
|
Electronics & Tuning
|
Exterior, Body & Aerodynamics
|
Intake
|
Exhaust
|
Miscellaneous
|
Pit Equipment / Tools
|
Electrical
|
Services
|
Towing Equipment
|
Brakes
|
Suspension
|
Mini Cooper Catalog
|
Books, CDs, DVDs & Literature
|
Interior & Ergonomics
|
E82 / E87 - 1 Series Catalog
|
E30 M3 Catalog
|
Seats and Accessories
|
EZ-UP Canopies
|
Apparel
|
Cars For Sale
|
Clearance Items
|
Drivetrain
|
Fluids & Oil
|
Cooling System
|
Vehicle Track Timing Products
|
Used & Refurbished Parts
|
Dyno Tuning
|
Package Deals / Kits
|
Carbon Fiber Accessories
|
Factory 'BMW Performance'
|
Safety Equipment
|
Plumbing / Aeroquip
|
Great Gift Ideas
|
New Products
|
Roll Cage Kits
|
Spec Racing
BMW, Racing, Safety, Harnesses, Roll cage, Motorsport, Motorsports, Engine, Engines, Automobile, Auto, Autos, BMW Tuner, Tuner, Tuning, Chip, Chip Tuning, Custom Tuning, Dyno tune, OBD2 Tuning, Performance, BMW Performance, Ultimate, Ultimate driving machine, Machine shop, Camshafts, Cams, Head, Heads, port polish, Port and polish,
VAC Motorsports Online Store powered by Nexternal
shopping cart software