VAC - M5x / S5x (US) Solid Lifter Conversion Kit (24)
$1199.95
Purchase VAC - M5x / S5x (US) Solid Lifter Conversion Kit (24)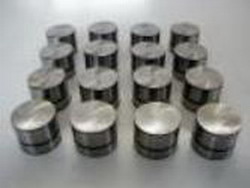 The benefits of a Solid Lifter Conversion Kit are great!
Also know as a "Race Cam Follower Kit" this kit is designed to replace the factory hydraulic cam followers giving you a lighter, more reliable valve train without any problems when using aggressive cams and high RPMs.
First, since our kit is the lightest on the market, it allows for best throttle response, and very little stress on the valve train. This lightness also allows the lifters, which are absolutely race quality- made in Europe to our specifications, to follow the cams more closely with less pressure (less wear); allowing you to rev to higher RPMs with less risk.<P>
The most important benefit of solid lifters is the prevention of hydraulic lifters 'pumping up' in high rev situations and allowing damage to the valve train and possibly pistons (piston to valve contact).
The OE M50 M52 / S50us S52us series of engines are all mechanically the same in the respect that the lifters have trouble bleeding off pressure with aggressive cams over 7400 RPM. Solid lifters allow you to convert to a shim-adjusted configuration similar to the the Euro S50s and the S54, allowing the use of any type of camshaft that makes power far beyond 7400, and insures that the engine is at the peak of reliability.

This is the kit to use when using full racing-spec camshafts, however, make sure you are using camshafts ground for use with solid lifters. Our VAC cams for solid lifters are available here: M50 / S50us Track and Performance cams


Our kit consists of:
(24) Lightweight Solid Lifters
Included Lash Caps; (12)3mm,(12)3.5mm
VAC Tech Note:
"Lifter" is another term for "cam follower", they are for all purposes the same.
Purchase VAC - M5x / S5x (US) Solid Lifter Conversion Kit (24)
SKU: VAC-SLK-M50 
Lifter / Follower Size: 33mm; 35mm
Engine Type: M50 / M52, (50 / S52 US Spec M3)
Other products in the category Engine Components / Valve Train:


StoreFront
|
Wheels and Accessories
|
Engine Components
|
Engines - Racing
|
Fuel System
|
Oil System / Engine Lubrication
|
Forced Induction (Turbo, Supercharge, Accessories)
|
Other Manufactures (non-BMW)
|
Electronics & Tuning
|
Exterior, Body & Aerodynamics
|
Intake
|
Exhaust
|
Miscellaneous
|
Pit Equipment / Tools
|
Electrical
|
Services
|
Towing Equipment
|
Brakes
|
Suspension
|
Mini Cooper Catalog
|
Books, CDs, DVDs & Literature
|
Interior & Ergonomics
|
E82 / E87 - 1 Series Catalog
|
E30 M3 Catalog
|
Seats and Accessories
|
EZ-UP Canopies
|
Apparel
|
Cars For Sale
|
Clearance Items
|
Drivetrain
|
Fluids & Oil
|
Cooling System
|
Vehicle Track Timing Products
|
Used & Refurbished Parts
|
Dyno Tuning
|
Package Deals / Kits
|
Carbon Fiber Accessories
|
Factory 'BMW Performance'
|
Safety Equipment
|
Plumbing / Aeroquip
|
Great Gift Ideas
|
New Products
|
Roll Cage Kits
|
Spec Racing
BMW, Racing, Safety, Harnesses, Roll cage, Motorsport, Motorsports, Engine, Engines, Automobile, Auto, Autos, BMW Tuner, Tuner, Tuning, Chip, Chip Tuning, Custom Tuning, Dyno tune, OBD2 Tuning, Performance, BMW Performance, Ultimate, Ultimate driving machine, Machine shop, Camshafts, Cams, Head, Heads, port polish, Port and polish,
VAC Motorsports Online Store powered by Nexternal
shopping cart software