VAC - M50 / M52 Turbo Build Kit
$3699.95
Purchase VAC - M50 / M52 Turbo Build Kit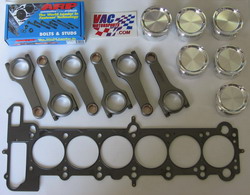 Building a M50 or M52 engine for high boost? Of course, you have come to the right place!
Build it once and build it right with our exceptional VAC Motorsports Turbo-Build Kits...
Proven by more customers around the world than any other; these kits are meant to deliver the safety and power you need. Featuring low-compression 'VAC Turbo specification' CP Pistons, Arrow Precision Rods, VAC MLS head gasket, and the best ARP hardware; this kit is up to the task of serious power with reliability.
VAC has built and sold many engines with this same kit making over 1000HP!
All components have been proven to work together perfectly. Sold for use with the 85-86mm Bore M50 family blocks.
If you need a custom CR ratio, bore, or head gasket please give us a call or email. We would be happy to substitute specs to fit your needs.

Kit features:


Six CP Forged BMW Turbo Pistons (8.5:1)
Six Forged Arrow Precision H-Beam Connecting Rods
VAC Multi-Layered Steel Head Gasket
ARP Head Stud Kit
ARP Con-rod Hardware
This kit is in more record holding high HP BMWs than any other in the world.


Note: Please specify details of engine when ordering above

With countless miles of R&D and terrific power output; this is the proven, finest setup for your turbo BMW available anywhere. Specifically engineered for turbocharging with components designed for turbo use, this kit is the ultimate setup.

Keep us in mind for your engine build: VAC is a full engine and machine shop, we can take care of all your high performance BMW needs including turbo related items & builds, give us a call!

Purchase VAC - M50 / M52 Turbo Build Kit

SKU: VAC-TK-CPA-M50
Engine Type / Bore Size: M50 (Pistons ship in 85mm); M52 (Pistons ship in 86mm); M52 (Pistons ship in 85mm); M52 (Pistons ship in 86mm)
Engine Type: M50 / M52

Other products in the category Package Deals / Kits / Turbo Kits:



































StoreFront | Wheels and Accessories | Engine Components | Engines - Racing | Fuel System | Oil System / Engine Lubrication | Forced Induction (Turbo, Supercharge, Accessories) | Other Manufactures (non-BMW) | Electronics & Tuning | Exterior, Body & Aerodynamics | Intake | Exhaust | Miscellaneous | Pit Equipment / Tools | Electrical | Services | Towing Equipment | Brakes | Suspension | Mini Cooper Catalog | Books, CDs, DVDs & Literature | Interior & Ergonomics | E82 / E87 - 1 Series Catalog | E30 M3 Catalog | Seats and Accessories | EZ-UP Canopies | Apparel | Cars For Sale | Clearance Items | Drivetrain | Fluids & Oil | Cooling System | Vehicle Track Timing Products | Used & Refurbished Parts | Dyno Tuning | Package Deals / Kits | Carbon Fiber Accessories | Factory 'BMW Performance' | Safety Equipment | Plumbing / Aeroquip | Great Gift Ideas | New Products | Roll Cage Kits | Spec Racing





BMW, Racing, Safety, Harnesses, Roll cage, Motorsport, Motorsports, Engine, Engines, Automobile, Auto, Autos, BMW Tuner, Tuner, Tuning, Chip, Chip Tuning, Custom Tuning, Dyno tune, OBD2 Tuning, Performance, BMW Performance, Ultimate, Ultimate driving machine, Machine shop, Camshafts, Cams, Head, Heads, port polish, Port and polish,
VAC Motorsports Online Store powered by Nexternal shopping cart software