VAC - M42 Turbo Build Kit
$2349.95
Purchase VAC - M42 Turbo Build Kit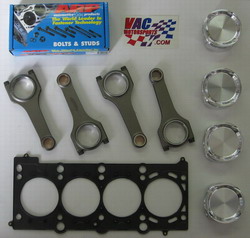 Our VAC Motorsports Turbo Build kits have been proven all around the world in the most grueling conditions. There is no doubt: Daily use reliable, tough enough for the most demanding race car drivers in the world, premium components and engineering; this kit is the finest and most proven kit available anywhere.

Kit Includes:
(4) CP Forged Pistons, that we spec for Turbo use. This kit includes a great set of rings and pins + locks (Most turbo setups are sold as 8.5:1).
(4) Forged H-Beam Connecting Rods. These are made by the UK manufacture "Arrow Precision". They are amazingly quality, first class. They include ARP Hardware.
VAC Multi-Layered Steel Head Gasket (.070) made to our specs.
ARP Head Stud Kit to replace the weak OE BMW head bolts.
Purchase VAC - M42 Turbo Build Kit
SKU: VAC-TK-CPA-M42
Engine Type: M42
Other products in the category Package Deals / Kits / Turbo Kits:


StoreFront
|
Wheels and Accessories
|
Engine Components
|
Engines - Racing
|
Fuel System
|
Oil System / Engine Lubrication
|
Forced Induction (Turbo, Supercharge, Accessories)
|
Other Manufactures (non-BMW)
|
Electronics & Tuning
|
Exterior, Body & Aerodynamics
|
Intake
|
Exhaust
|
Miscellaneous
|
Pit Equipment / Tools
|
Electrical
|
Services
|
Towing Equipment
|
Brakes
|
Suspension
|
Mini Cooper Catalog
|
Books, CDs, DVDs & Literature
|
Interior & Ergonomics
|
E82 / E87 - 1 Series Catalog
|
E30 M3 Catalog
|
Seats and Accessories
|
EZ-UP Canopies
|
Apparel
|
Cars For Sale
|
Clearance Items
|
Drivetrain
|
Fluids & Oil
|
Cooling System
|
Vehicle Track Timing Products
|
Used & Refurbished Parts
|
Dyno Tuning
|
Package Deals / Kits
|
Carbon Fiber Accessories
|
Factory 'BMW Performance'
|
Safety Equipment
|
Plumbing / Aeroquip
|
Great Gift Ideas
|
New Products
|
Roll Cage Kits
|
Spec Racing
BMW, Racing, Safety, Harnesses, Roll cage, Motorsport, Motorsports, Engine, Engines, Automobile, Auto, Autos, BMW Tuner, Tuner, Tuning, Chip, Chip Tuning, Custom Tuning, Dyno tune, OBD2 Tuning, Performance, BMW Performance, Ultimate, Ultimate driving machine, Machine shop, Camshafts, Cams, Head, Heads, port polish, Port and polish,
VAC Motorsports Online Store powered by Nexternal
shopping cart software