VAC - E39, Aluminum Racing Radiator
$599.95
Purchase VAC - E39, Aluminum Racing Radiator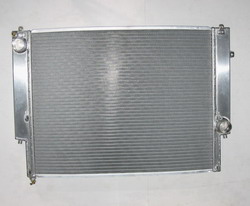 Our Aluminum Race Radiators were born from the goal of excellent performance for unique applications; they also offer ease of install, and a great price.
The E39 VAC Aluminum Radiator is a premium design of 100% aluminum-construction, meaning no weak plastic to burst or crack or fittings to damage. It is designed as a direct replacement for the most popular OEM radiator and utilizes the factory fan shroud and expansion tank.
With our super high efficiency core and light weight, this radiator is at home on the street or the track, plus it's price is one that can't be beat. After many happy customers, we can say no other radiator offers this performance this easy!


Direct Fit (applications listed)
Proven under duress of high-load forced induction (both during racing conditions as well as street conditions)
1 Year warranty against defects
Made in Philadelphia, USA
Applications: YOU MUST READ THIS BEFORE PURCHASING


Application
Fitment Notes
Direct Replacement?
E39 V8: 1996-98, 540i;
Direct Replacement for OE radiator that use traditional hose-clamps for radiator hoses.
Yes
E39 V8: 99-2003, 540i;
Direct Replacement for OE radiator, compatible with BMW's proprietary fittings.

Yes
E39 I6 97-98:
Direct Replacement... however will not clear Power-Steering without modification to high pressure hoses!
We do not offer any kit to do this, please do not purchase if you cannot modify these lines.
With modification to PS lines only
E39 I6 99-on:
Fitment unknown! Please do not purchase without intent to modify.
Unknown
*VAC E36 radiator shown in images for quality example*

Purchase VAC - E39, Aluminum Racing Radiator

Other products in the category Cooling System / Radiators:















StoreFront | Wheels and Accessories | Engine Components | Engines - Racing | Fuel System | Oil System / Engine Lubrication | Forced Induction (Turbo, Supercharge, Accessories) | Other Manufactures (non-BMW) | Electronics & Tuning | Exterior, Body & Aerodynamics | Intake | Exhaust | Miscellaneous | Pit Equipment / Tools | Electrical | auto | Towing Equipment | Brakes | Suspension | Mini Cooper Catalog | Books, CDs, DVDs & Literature | Interior & Ergonomics | E82 / E87 - 1 Series Catalog | E30 M3 Catalog | Seats and Accessories | EZ-UP Canopies | Apparel | Cars For Sale | Clearance Items | Drivetrain | Fluids & Oil | Cooling System | Vehicle Track Timing Products | Used & Refurbished Parts | Dyno Tuning | Package Deals / Kits | Carbon Fiber Accessories | Factory 'BMW Performance' | Safety Equipment | Plumbing / Aeroquip | Great Gift Ideas | New Products | Roll Cage Kits | Spec Racing





BMW, Racing, Safety, Harnesses, Roll cage, Motorsport, Motorsports, Engine, Engines, Automobile, Auto, Autos, BMW Tuner, Tuner, Tuning, Chip, Chip Tuning, Custom Tuning, Dyno tune, OBD2 Tuning, Performance, BMW Performance, Ultimate, Ultimate driving machine, Machine shop, Camshafts, Cams, Head, Heads, port polish, Port and polish,
VAC Motorsports Online Store powered by Nexternal shopping cart software