VAC - E30 M3 Sport Evo Style Carbon Fiber Front Splitter
379.95
329.95
Purchase VAC - E30 M3 Sport Evo Style Carbon Fiber Front Splitter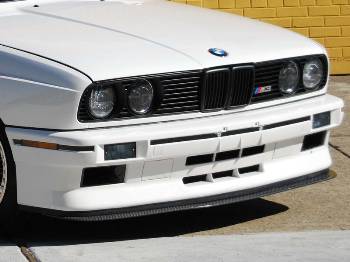 Modeled directly after the real BMW Motorsport splitter, this carbon fiber piece has bolt on fit-and-finish, functional performance, and handsome high-tech looks!
Currently, CF splitter blades are on backorder for an undetermined about of time, we apologize for the inconvenience, but we do have the OE kits available from stock!
This gorgeous piece can be used on the race track or the street and is a must have for the E30 M3 lover. Wintunnel and race track proven, this is a great upgrade to make your E30 M3 look great and handle better.
Ultra high quality means it fits to the Evo undertray with no modifications necessary, just like OEM. UV resistant urethane clear- coated for great looks and long lasting protection.
Street and track tough; carbon fiber-sandwiched construction can take more abuse than the OE fiberglass blade!

Splitter only: Attaches to bumper using OEM Sport Evo under-tray (available here in kit for above), or can be custom mounted to Evo II air dam.

Carbon Splitter & Undertray Kit: Our highest quality Carbon fiber Splitter, along with BMW OEM undertray, tray window, and all other necessary hardware to install just like you see in the photo.

Undertray only: Just BMWs under tray, window and hardware- no splitter blade included.
Our Evo Splitter parts feature...
Adjustable for downforce when using E3 under tray.
Made in the USA splitter, made in Germany OE BMW Undertray with true bolt-on fit and finish
Glossy and attractive CF finish updates your M3 without being garish.
Better front end grip and high speed stability
Perfect replacement for OEM
Direct replacement for the OE blade, including compatibility with the undertray Oil Cooler window
Body Pro's Tech Tips:
Unlike the OEM BMW Evo Splitter Blade that is made of fiberglass and typically needs body shop finishing to look its best, our VAC carbon fiber splitter has perfect fit and finish out of the box. Just bolt it on!
For best strength, low cost and an OE look... Our blade can be painted flat black for a period correct factory appearance without using the expensive and weak OE splitter.
Check out this image from the BMW Sport Evo Catalog showing the different levels of downforce and their settings when purchased as a whole kit...




NOTE:
We recommend buying these kits as soon as you can; the cost of the OE components used in this kit are skyrocketing from BMW every month and may go NLA at any time, don't wait.
Purchase VAC - E30 M3 Sport Evo Style Carbon Fiber Front Splitter
SKU: VAC-CFS-E3
Kit: Splitter only (custom use/ add to Evo2 spoiler); CF Splitter and OEM Undertray Kit (as shown); Undertray kit only
Chassis Type: E30 M3 (only)
Other products in the category Exterior, Body & Aerodynamics / Aerodynamics / Wings / Spoilers:


StoreFront
|
Wheels and Accessories
|
Engine Components
|
Engines - Racing
|
Fuel System
|
Oil System / Engine Lubrication
|
Forced Induction (Turbo, Supercharge, Accessories)
|
Other Manufactures (non-BMW)
|
Electronics & Tuning
|
Exterior, Body & Aerodynamics
|
Intake
|
Exhaust
|
Miscellaneous
|
Pit Equipment / Tools
|
Electrical
|
Services
|
Towing Equipment
|
Brakes
|
Suspension
|
Mini Cooper Catalog
|
Books, CDs, DVDs & Literature
|
Interior & Ergonomics
|
E82 / E87 - 1 Series Catalog
|
E30 M3 Catalog
|
Seats and Accessories
|
EZ-UP Canopies
|
Apparel
|
Cars For Sale
|
Clearance Items
|
Drivetrain
|
Fluids & Oil
|
Cooling System
|
Vehicle Track Timing Products
|
Used & Refurbished Parts
|
Dyno Tuning
|
Package Deals / Kits
|
Carbon Fiber Accessories
|
Factory 'BMW Performance'
|
Safety Equipment
|
Plumbing / Aeroquip
|
Great Gift Ideas
|
New Products
|
Roll Cage Kits
|
Spec Racing
BMW, Racing, Safety, Harnesses, Roll cage, Motorsport, Motorsports, Engine, Engines, Automobile, Auto, Autos, BMW Tuner, Tuner, Tuning, Chip, Chip Tuning, Custom Tuning, Dyno tune, OBD2 Tuning, Performance, BMW Performance, Ultimate, Ultimate driving machine, Machine shop, Camshafts, Cams, Head, Heads, port polish, Port and polish,
VAC Motorsports Online Store powered by Nexternal
shopping cart software