VAC - 8mm Lash Caps (sold individually)
$9.95
Purchase VAC - 8mm Lash Caps (sold individually)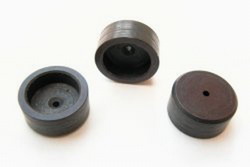 Our VAC Lash Caps are designed to fit on the valve stem tip and are available for 6mm, 7mm, and 8mm diameter valves for nearly any engine.
Not just for BMWs; our Lash Caps are popular for everything from Small Block Chevys to Ferraris. These 8mm Lash caps are also very popular with Air Cooled VW & Porsche engines.
We try and stock a variety of thicknesses for your convenience.
These lash caps are available from .040" (1mm) to .177" (4.5mm) thick.
In some cases, we can also special order any size in quantity for your engine building machine shop needs.

Our Lash Caps are race proven, light weight and super wear resistant, hardened for durability and reliability, and can be ground down to your desired thickness.
**Please Specify Thickness Needed above. Not all thicknesses are in stock at all times. Consult your engine builder for your needed thicknesses and valve stem diameter**
VAC Tech Tip:
If you require several specific thickness lash caps, we can offer our precision grinding service that we perform in house on our automated machine. This offers exceptionally close tolerances for your build.
Purchase VAC - 8mm Lash Caps (sold individually)
SKU: VAC-LC-8
Cap Thickness: 1mm; 2mm; 2.25mm; 2.5mm; 2.75mm; 3mm; 3.25mm; 3.5mm; 4mm; 4.5mm
Engine Type: Universal for many applications
Other products in the category Engine Components / Valve Train:


StoreFront
|
Wheels and Accessories
|
Engine Components
|
Engines - Racing
|
Fuel System
|
Oil System / Engine Lubrication
|
Forced Induction (Turbo, Supercharge, Accessories)
|
Other Manufactures (non-BMW)
|
Electronics & Tuning
|
Exterior, Body & Aerodynamics
|
Intake
|
Exhaust
|
Miscellaneous
|
Pit Equipment / Tools
|
Electrical
|
Services
|
Towing Equipment
|
Brakes
|
Suspension
|
Mini Cooper Catalog
|
Books, CDs, DVDs & Literature
|
Interior & Ergonomics
|
E82 / E87 - 1 Series Catalog
|
E30 M3 Catalog
|
Seats and Accessories
|
EZ-UP Canopies
|
Apparel
|
Cars For Sale
|
Clearance Items
|
Drivetrain
|
Fluids & Oil
|
Cooling System
|
Vehicle Track Timing Products
|
Used & Refurbished Parts
|
Dyno Tuning
|
Package Deals / Kits
|
Carbon Fiber Accessories
|
Factory 'BMW Performance'
|
Safety Equipment
|
Plumbing / Aeroquip
|
Great Gift Ideas
|
New Products
|
Roll Cage Kits
|
Spec Racing
BMW, Racing, Safety, Harnesses, Roll cage, Motorsport, Motorsports, Engine, Engines, Automobile, Auto, Autos, BMW Tuner, Tuner, Tuning, Chip, Chip Tuning, Custom Tuning, Dyno tune, OBD2 Tuning, Performance, BMW Performance, Ultimate, Ultimate driving machine, Machine shop, Camshafts, Cams, Head, Heads, port polish, Port and polish,
VAC Motorsports Online Store powered by Nexternal
shopping cart software