TOTAL - 5W-40 QUARTZ ENERGY 9000 High Performance Synthetic Engine Oil
$11.99
--
5w-40 Synthetic Oil from Total
Purchase TOTAL - 5W-40 QUARTZ ENERGY 9000 High Performance Synthetic Engine Oil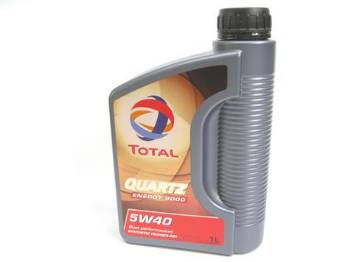 A Best Seller!
You have read the buzz now get the Oil every one is switching to!
Our best seller: This Synthetic high-technology lubricant is designed to be suitable for longer drain intervals and to provide exceptional resistance to oxidation and wear for both Gasoline and Diesel engines. Our most popular oil here at VAC can widthsand the harsh demands of todays engines, and survive 7-15k mile oil change intervals, belive it!
Engine performance is optimized even when subjected to extreme usage conditions which include built engines, turbos superchargers, timing-chains and more.
TOTAL (previously "Elf") High Performance Full Synthetic Engine Oil is being used by many of the top racing teams today. Porsches and BMWs everywhere are switching to their high grade oil on and off the track for exemplary low wear, lower oil temps, and longer change intervals. For years, TOTAL (as Elf) has been an oil of choice for racing professionals and mechanics alike.
You may already be familiar with TOTAL/Elf as seen in F1, Lemans, WRC, MotoGP and others for over 35 years.


BMW warranty compliant
Exceptional protection of engine parts
Best choice for engine longevity and increased power output
Extremly long drain intervals
Perfect for severe usage conditions
An extremely high-end Group III Synthetic oil that meets or exceeds all of the following:
ACEA A3/B4
API SM/CF
MB 229.3 (WSS or WSS plus)
VW 502.00/505.00
BMW LL 04
Porsche GM-LL-B025


TOTAL applies all of its innovation capabilities in order to create high performance lubricants which meet BMW's most recent requirements and which target the most recent specifications of the BMW Long Life standards.
Each BMW approval corresponds to a specific technical feature.
BMW LL 04: Extended oil-change interval (over 30 000 km). Valvetronic compatible. DPF and other post treatment systems.
BMW LL 01: Extended oil-change interval (over 30 000 km). Valvetronic compatible.
BMW LL 98: Only for models before 2002. Standard oil change interval 30 00 km maximum
Quartz Energy 9000: 5W-40, 1L Each (about 1 US quart)
*Formally known as Elf Excellium NF5W40*

We are now direct with Total and can keep this oil in-stock at awesome prices!

This is our favorite and recommended oil for the M50 and M52 engines, including the S50 US and S52 US engines. Also the newer generation N52, N54/N55 turbo & N62

Excellent for:
BMW: S14 & S38 (if in good condition), S62 (that calls for Xw-30 weight), S50/S52 Euro (and all other models specifying Xw-40 weight oil)

Porsche: all models specifying Xw-40 weight
Nissan/Infinity: engines w/timing chains
High performance Toyota/Lexus, Rotary, Subaru engines.
Ferrari, Audi/VW applications, and any other diesel or gasoline engine specifying 5W-40 oil.

Purchase TOTAL - 5W-40 QUARTZ ENERGY 9000 High Performance Synthetic Engine Oil

Other products in the category Fluids & Oil / Motor Oils:































StoreFront | Wheels and Accessories | Engine Components | Engines - Racing | Fuel System | Oil System / Engine Lubrication | Forced Induction (Turbo, Supercharge, Accessories) | Other Manufactures (non-BMW) | Electronics & Tuning | Exterior, Body & Aerodynamics | Intake | Exhaust | Miscellaneous | Pit Equipment / Tools | Electrical | Services | Towing Equipment | Brakes | Suspension | Mini Cooper Catalog | Books, CDs, DVDs & Literature | Interior & Ergonomics | E82 / E87 - 1 Series Catalog | E30 M3 Catalog | Seats and Accessories | EZ-UP Canopies | Apparel | Cars For Sale | Clearance Items | Drivetrain | Fluids & Oil | Cooling System | Vehicle Track Timing Products | Used & Refurbished Parts | Dyno Tuning | Package Deals / Kits | Carbon Fiber Accessories | Factory 'BMW Performance' | Safety Equipment | Plumbing / Aeroquip | Great Gift Ideas | New Products | Roll Cage Kits | Spec Racing





BMW, Racing, Safety, Harnesses, Roll cage, Motorsport, Motorsports, Engine, Engines, Automobile, Auto, Autos, BMW Tuner, Tuner, Tuning, Chip, Chip Tuning, Custom Tuning, Dyno tune, OBD2 Tuning, Performance, BMW Performance, Ultimate, Ultimate driving machine, Machine shop, Camshafts, Cams, Head, Heads, port polish, Port and polish,
VAC Motorsports Online Store powered by Nexternal shopping cart software