TEIN - AE86 Super Street Coilover Suspension System
$2,890.00
$1,795.95
Purchase TEIN - AE86 Super Street Coilover Suspension System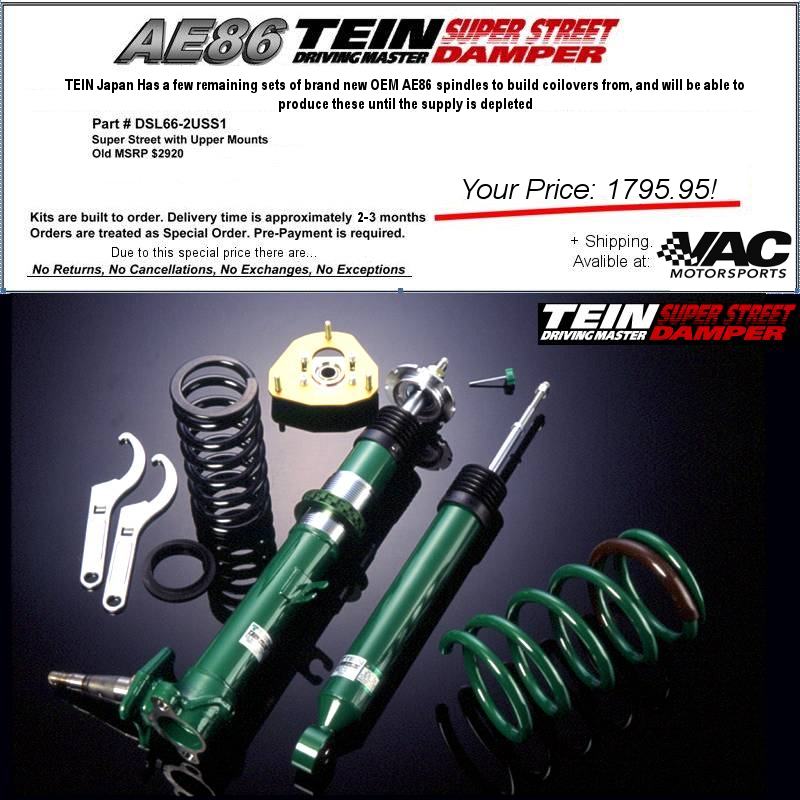 TEIN's Super-Street performance for your AE86
For years, only weld-on systems that required modifications to your stock strut spindles were available for the AE86. TEIN had been available, but only at a very high cost to the enthusiast. Now Tein is making their AE86 more affordable to offer a more competitive price in the market place.
If you're a fan of the 'green' suspension company from Japan- then you can order your kit from us as we are direct dealers for TEIN and can still get these kits on a per-order basis.
SuperStreet Coilover Kit; AE86
Compression and rebound Adjustable, high quality twin-tube dampers offer very good ride quality, while still maintaining high spring rates 86 owners like.
TEIN includes high quality pillow-ball camber plates that allow for much more additional negative camber than stock for the perfect alignment.


Full bolt on; includes new spindles
Twin Tube dampers for best ride quality
16-click adjustable dampers; compression and rebound combined
Pillow ball upper mounts for increased steering feel and precision
Ride Height adjustable via spring seat
Larger piston diameter for strut type, front and rear (22mm)
Powder coated damper body with Zinc coated threaded section
Contents of Coilover Kit: Adjustable Shock Absorber/ coilover assembly × 4 Bump Rubber × 2 Main Spring × 4 Hook Spanner × 2 Dust Cover × 4 Seat Lock × 12 Instruction Manual × 1 Sticker Sheet × 1
IMPORTANT NOTES from TEIN:
Superstreet kit for AE86 has an MSRP of $1900. ETA on special order kits like this can be 2-3 months. Once payments are received there can be no cancellation or return on your order.

Purchase TEIN - AE86 Super Street Coilover Suspension System

Other products in the category Other Manufactures (non-BMW) / Japanese Performance / AE86 (Corolla / Sprinter / Levin):



































RELATED PRODUCTS







StoreFront | Wheels and Accessories | Engine Components | Engines - Racing | Fuel System | Oil System / Engine Lubrication | Forced Induction (Turbo, Supercharge, Accessories) | Other Manufactures (non-BMW) | Exterior, Body & Aerodynamics | Intake | Exhaust | Miscellaneous | Pit Equipment / Tools | Electrical | Services | Towing Equipment | Brakes | Suspension | Mini Cooper Catalog | Books, CDs, DVDs & Literature | Interior & Ergonomics | E82 / E87 - 1 Series Catalog | E30 M3 Catalog | Seats and Accessories | EZ-UP Canopies | Apparel | Cars For Sale | Clearance Items | Fluids | Cooling System | Drivetrain | Vehicle Track Timing Products | Used & Refurbished Parts | Dyno Tuning | Package Deals / Kits | Carbon Fiber Accessories | Factory 'BMW Performance' | Safety Equipment | Plumbing / Aeroquip | Great Gift Ideas | New Products | Roll Cage Kits | Spec Racing





BMW, Racing, Safety, Harnesses, Roll cage, Motorsport, Motorsports, Engine, Engines, Automobile, Auto, Autos, BMW Tuner, Tuner, Tuning, Chip, Chip Tuning, Custom Tuning, Dyno tune, OBD2 Tuning, Performance, BMW Performance, Ultimate, Ultimate driving machine, Machine shop, Camshafts, Cams, Head, Heads, port polish, Port and polish,
VAC Motorsports Online Store powered by Nexternal shopping cart software