Supersprint - E46 M3 Step Headers (V2, Bolt-On Type)
$1,979.39
$1,565.95
Purchase Supersprint - E46 M3 Step Headers (V2, Bolt-On Type)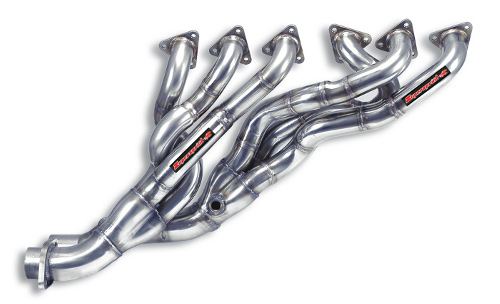 This is the best Bolt-On header for the E46 M3 & M-Z4!... And now, finally affordable!
The V2 Supersprint header technology is finally available as a direct bolt on to the US spec vehicle! While the more expensive version is intended for use with high flow SS cats or the SS straight pipes/ high-flow cats- this header is more affordable than ever and quality is outstanding. At this price, owning a real Supersprint Vs. a knockoff header is within most enthusiast reach.
Supersprint's patented design is quite unique in that it offers a smaller high-velocity diameter primary at the engines exhaust port and later increases to a greater diameter at a specific distance from the cylinder head. The result from the larger tube is maximum horsepower at high RPM, while the small tube maximizes low-end torque. Its is the combination "stepped" construction that makes the one of the best headers on the market, and worth the asking price.

The engineers at Supersprint realize that for maximum performance, exhaust development must begin at the exhaust ports (the cylinder head). This is why Supersprint has the largest variety of racing header systems in the world today: Applications that fit well and make amazing power gains next to all competitors.
Each Supersprint header incorporates CNC laser cut port matched flanges. Primary tubes that are mandrel bent using the latest CNC tube bending equipment; with special tooling Supersprint has been able to keep weld joints to a minimum for added reliability. The fully appointed R&D department uses the latest in prototyping equipment along with the reliability and accuracy of a MAHA "all wheel drive" chassis dyno to gauge results. With over 50 years in performance exhaust development they have earned the confidence of many of Europe's most respected tuners.
There is no doubt to us at VAC that aside from the Supersprint header-Highflow cat/Testpipe combo, this is the most powerful combination available!
With its excellent fitment this is the best Bolt-on header available for the E46 M3 and the Z4 M.
New FLANGED design will fit to OE Section I on both E46 M3s and Z4 M coupes and Roadsters.

VAC Tech Note:
This newest header design is flanged and designed as a direct bolt on to the BMW O.E. Section 1 on these cars.
Keep in mind, modifying the exhaust system of your vehicle may not be legal in all states, the customer must be aware of this, VAC is not responsible for the legality of modifying your vehicle, it is the sole responsibility of the client to know what modifications are legal in their area.

Purchase Supersprint - E46 M3 Step Headers (V2, Bolt-On Type)

SKU: SS-SBEH-E46M3
Engine Type: S54
Chassis Type: E46 M3, M-Z4

Specifications

Supersprint Part #: 022 044 901

Other products in the category Exhaust / Supersprint:



























































RELATED PRODUCTS







StoreFront | Wheels and Accessories | Engine Components | Engines - Racing | Fuel System | Oil System / Engine Lubrication | Forced Induction (Turbo, Supercharge, Accessories) | Other Manufactures (non-BMW) | Exterior, Body & Aerodynamics | Intake | Exhaust | Miscellaneous | Pit Equipment / Tools | Electrical | Services | Towing Equipment | Brakes | Suspension | Mini Cooper Catalog | Books, CDs, DVDs & Literature | Interior & Ergonomics | E82 / E87 - 1 Series Catalog | E30 M3 Catalog | Seats and Accessories | EZ-UP Canopies | Apparel | Cars For Sale | Clearance Items | Fluids | Cooling System | Drivetrain | Vehicle Track Timing Products | Used & Refurbished Parts | Dyno Tuning | Package Deals / Kits | Carbon Fiber Accessories | Factory 'BMW Performance' | Safety Equipment | Plumbing / Aeroquip | Great Gift Ideas | New Products | Roll Cage Kits | Spec Racing





BMW, Racing, Safety, Harnesses, Roll cage, Motorsport, Motorsports, Engine, Engines, Automobile, Auto, Autos, BMW Tuner, Tuner, Tuning, Chip, Chip Tuning, Custom Tuning, Dyno tune, OBD2 Tuning, Performance, BMW Performance, Ultimate, Ultimate driving machine, Machine shop, Camshafts, Cams, Head, Heads, port polish, Port and polish,
VAC Motorsports Online Store powered by Nexternal shopping cart software