STANCE - AE86 Coilover Suspension System
1895.00
1704.95
Purchase STANCE - AE86 Coilover Suspension System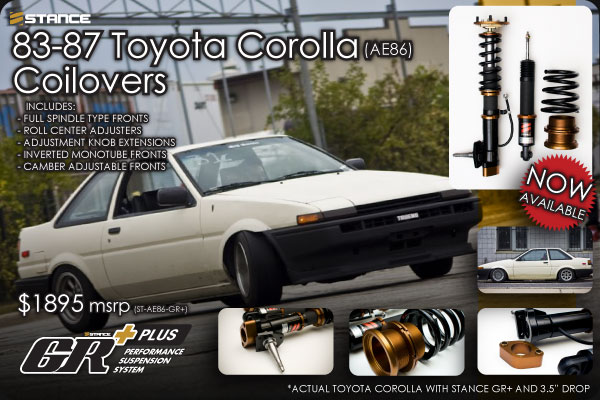 Track Ready adjustable Monotube Coilover Technology for your AE86!
Stance offers excellent-quality coilovers know to rival other company's offerings that cost twice as much.
For years, only weld-on systems that required modifications to your stock strut spindles were available for the AE86. Some have come along in the mean time, but now, Stance introduces the highest quality system at the most reasonable cost around. This kit includes new spindles in the purchase price as well as Monotube technology.
Rebound Adjustable, high quality mono-tube dampers contribute to a exceptionally controlled ride and high confidence level at speed. Even though these are excellent performers right out of the box, Grip or drift we can also offer you additional front spring rates to find tune the chassis to your needs.
This set includes high quality pillow-ball camber plates that allow for up to 4 degrees of negative camber. It also includes Roll Center spacers, typically an addition purchase, that help realign your front suspension geometry.


Full bolt on; includes new spindles
High quality 16 level adjustable dampers
4-Corner Height adjustable
Includes front Roll Center Spacers
Includes pillow-ball Camber Plates
Extension cable for damper adjustment
Inverted Mono-tube strut arrangement
Durable enough for the street and the track

There is high demand for this product, please call or email for updated availability information. We can source from several locations to make sure you get your Stance Coilovers ASAP.

Purchase STANCE - AE86 Coilover Suspension System

Other products in the category Other Manufactures (non-BMW) / Japanese Performance / AE86 (Corolla / Sprinter / Levin):



























StoreFront | Wheels and Accessories | Engine Components | Engines - Racing | Fuel System | Oil System / Engine Lubrication | Forced Induction (Turbo, Supercharge, Accessories) | Other Manufactures (non-BMW) | Electronics & Tuning | Exterior, Body & Aerodynamics | Intake | Exhaust | Miscellaneous | Pit Equipment / Tools | Electrical | Services | Towing Equipment | Brakes | Suspension | Mini Cooper Catalog | Books, CDs, DVDs & Literature | Interior & Ergonomics | E82 / E87 - 1 Series Catalog | E30 M3 Catalog | Seats and Accessories | EZ-UP Canopies | Apparel | Cars For Sale | Clearance Items | Drivetrain | Fluids & Oil | Cooling System | Vehicle Track Timing Products | Used & Refurbished Parts | Dyno Tuning | Package Deals / Kits | Carbon Fiber Accessories | Factory 'BMW Performance' | Safety Equipment | Plumbing / Aeroquip | Great Gift Ideas | New Products | Roll Cage Kits | Spec Racing





BMW, Racing, Safety, Harnesses, Roll cage, Motorsport, Motorsports, Engine, Engines, Automobile, Auto, Autos, BMW Tuner, Tuner, Tuning, Chip, Chip Tuning, Custom Tuning, Dyno tune, OBD2 Tuning, Performance, BMW Performance, Ultimate, Ultimate driving machine, Machine shop, Camshafts, Cams, Head, Heads, port polish, Port and polish,
VAC Motorsports Online Store powered by Nexternal shopping cart software