Stahl - M30 Exhaust Header
$1125.95
Purchase Stahl - M30 Exhaust Header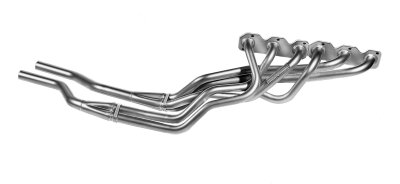 Stahl M30 Exhaust Headers provide race proven power gains with excellent quality and fitment.
Since 1963, Stahl have set the standard for reliability because nothing is worse than a broken down street car, or loosing a race because a poor quality part fails.
Stahl headers are made by hand in the USA and are tuned and built with quality and performance as there number one commitment.
We work with Stahl to make your header based on the needs and info you place in the box above. There isn't a better header available anywhere.
If your building an M30 for naturally aspirated performance or racing, Stahl headers are the choice!

Hand made to order in the USA
Always quality fit, finish, & materials
Makes real power, not just claims
Nearly all M30 applications available
*Please allow 10-14 days for assembly as these headers are built to order*
2800/Bavaria/3.0/530i/630i/635 shown.
Purchase Stahl - M30 Exhaust Header
SKU: STH-EH-M30
Application: 535i; 2800, Bavaria 3.0, 530i, 630i, 635; 533i (Also 535, 633, 635 w/ alum trans x member); 528i ('79-82.5); 633 ('79-82.5); 733i ('78-79)
Engine Type: M30
Chassis Type: Many Applications
Other products in the category Exhaust / Headers ( All Brands):


StoreFront
|
Wheels and Accessories
|
Engine Components
|
Engines - Racing
|
Fuel System
|
Oil System / Engine Lubrication
|
Forced Induction (Turbo, Supercharge, Accessories)
|
Other Manufactures (non-BMW)
|
Electronics & Tuning
|
Exterior, Body & Aerodynamics
|
Intake
|
Exhaust
|
Miscellaneous
|
Pit Equipment / Tools
|
Electrical
|
Services
|
Towing Equipment
|
Brakes
|
Suspension
|
Mini Cooper Catalog
|
Books, CDs, DVDs & Literature
|
Interior & Ergonomics
|
E82 / E87 - 1 Series Catalog
|
E30 M3 Catalog
|
Seats and Accessories
|
EZ-UP Canopies
|
Apparel
|
Cars For Sale
|
Clearance Items
|
Drivetrain
|
Fluids & Oil
|
Cooling System
|
Vehicle Track Timing Products
|
Used & Refurbished Parts
|
Dyno Tuning
|
Package Deals / Kits
|
Carbon Fiber Accessories
|
Factory 'BMW Performance'
|
Safety Equipment
|
Plumbing / Aeroquip
|
Great Gift Ideas
|
New Products
|
Roll Cage Kits
|
Spec Racing
BMW, Racing, Safety, Harnesses, Roll cage, Motorsport, Motorsports, Engine, Engines, Automobile, Auto, Autos, BMW Tuner, Tuner, Tuning, Chip, Chip Tuning, Custom Tuning, Dyno tune, OBD2 Tuning, Performance, BMW Performance, Ultimate, Ultimate driving machine, Machine shop, Camshafts, Cams, Head, Heads, port polish, Port and polish,
VAC Motorsports Online Store powered by Nexternal
shopping cart software