Powerflex - E46 Bushings
$79.95
Purchase Powerflex - E46 Bushings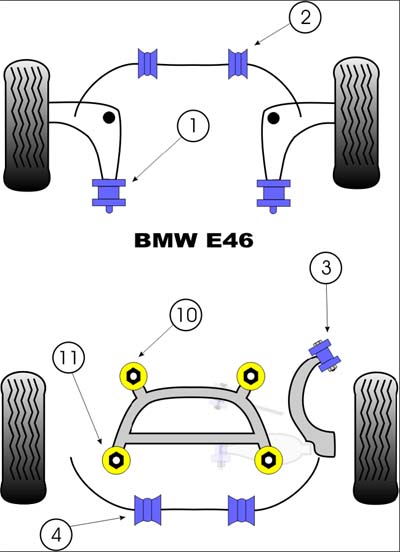 Powerflex will let you gain precise control of your BMW!
With Powerflex Polyurethane Bushings, you will gain better feedback from your suspension for high performance street or track driving. A dramatic difference can be had, especially if you have over 45k miles on your bushings or an early E46. After 4+ years, any E46 can find a beneficial upgrade from this list no matter how lightly driven or low mileage.
All E46s models are fairly hefty cars, with high grip suspension; they are tough on bushings, and Powerflex can typically offer a longer life than OE rubber, as well as being resistance to salt and common chemicals.
Powerflex bushings help to eliminate:

Vague or darting front end
Irregular tire wear
Trouble keeping proper wheel alignment
Poor steering feedback
''Ghost Steer'' or darting wheel during braking
Excessive correction while cornering
Thunking or wiggling under acceleration
''Wandering'' feel from suspension or chassis

...All this without throwing ride quality out the window! Just look at that list... does your E46 fit anything from that description? Then you need Powerflex!

Good bushings that keep alignment under load are a necessity if you wish to track your car or keep it control during high performance driving on the streets. This is especially true if you have fitted larger wheels with high grip tires and/or modified the suspension with springs or coilovers.
Powerflex bushings are made from quality materials in the UK and designed to enhance handling while maintaining a streetable ride.



Legal for most 'Stock Class' race classes
Each kit is supplied with a specialty copper-based grease for extended squeak-free operation
Improves control and performance while keeping ride quality in mind
Comes in pairs (2 for L&R), or sets (4) where required for each application


Powerflex specially blends each Polyurethane color to fit a specific application or use, we offer just the best of the bunch from their recommended expertise:
| | | |
| --- | --- | --- |
| Purple Bushing | Yellow Bushing | Black Bushing |
| Street, Excellent control with comfort | Street, Firm control- mostly used on non-moving bushings | Track, very stiff for track work |
Tech & Fitment Notes on E46 Powerflex bushings:
-These bushings fit:
1999 & up 4-Door  3 Series
2000 & up 3-Series body styles; including: 323, 325, 328, 330 2dr and Ci
2000 & up M3

-Z4s and M cars from and including 02/01 production use a 66mm bushing Front Control Arm Bushing.
-Due to factory recalls, the E46 cars prior to this production date 02/01 may have either the 60mm or 66mm diameter bushing - please measure and verify your specific car before ordering, we cannot tell you what your diameter is, (Measure outside diameter of stock bushing, inside of the round aluminum bracket).
-All E46 M3s use: POW-PFF5-4601M3 for the front Control Arm Bushing-Many E46 suffer from prematurely wearing front control arm bushings, Powerflex bushings will typically last longer than stock.

-Some bushings will require a bushing press for removal so professional install is recommended.
-Images will vary slightly from actual product
Purchase Powerflex - E46 Bushings
SKU: POW-E46
Bushing Type: Front Control Arm Bushing Set, 66mm, #1; Front Control Arm Bushing Set, M3 , #1; Front Control Arm Bushing Set, 60mm , #1; Front Control Arm Bushing Set, Xi / AWD , #1; Front Sway Bar Bushing Set, 21.5mm, #2; Front Sway Bar Bushing Set, 23mm, #2; Front Sway Bar Bushing Set, 24mm, #2; Front Sway Bar Bushing Set, 26mm, #2; Rear Trailing Arm- Front Bushing, #3; Rear Sway Bar Bushing Set, 15mm, #2; Rear Sway Bar Bushing Set, 18mm, #2; Rear Sway Bar Bushing Set, 19mm, #2; Rear Sway Bar Bushing Set, 21.5mm, #2; Rear Subframe (70A Street type-Yellow) #10 + 11; Rear Subframe (95A Race type-Black) #10 + 11
Chassis Type: E46 & Z4
Other products in the category Suspension / Other (Bushing, Mounts, Camber plates, Braces etc) / Powerflex 3 Series:











StoreFront | Wheels and Accessories | Engine Components | Engines - Racing | Fuel System | Oil System / Engine Lubrication | Forced Induction (Turbo, Supercharge, Accessories) | Other Manufactures (non-BMW) | Electronics & Tuning | Exterior, Body & Aerodynamics | Intake | Exhaust | Miscellaneous | Pit Equipment / Tools | Electrical | Services | Towing Equipment | Brakes | Suspension | Mini Cooper Catalog | Books, CDs, DVDs & Literature | Interior & Ergonomics | E82 / E87 - 1 Series Catalog | E30 M3 Catalog | Seats and Accessories | EZ-UP Canopies | Apparel | Cars For Sale | Clearance Items | Drivetrain | Fluids & Oil | Cooling System | Vehicle Track Timing Products | Used & Refurbished Parts | Dyno Tuning | Package Deals / Kits | Carbon Fiber Accessories | Factory 'BMW Performance' | Safety Equipment | Plumbing / Aeroquip | Great Gift Ideas | New Products | Roll Cage Kits | Spec Racing





BMW, Racing, Safety, Harnesses, Roll cage, Motorsport, Motorsports, Engine, Engines, Automobile, Auto, Autos, BMW Tuner, Tuner, Tuning, Chip, Chip Tuning, Custom Tuning, Dyno tune, OBD2 Tuning, Performance, BMW Performance, Ultimate, Ultimate driving machine, Machine shop, Camshafts, Cams, Head, Heads, port polish, Port and polish,
VAC Motorsports Online Store powered by Nexternal shopping cart software