OS Giken - ' TCD ' Limited Slip Clutch Type Differential - 135i & 335i (E87 E90 E92 E93)
$2890.00
Purchase OS Giken - ' TCD ' Limited Slip Clutch Type Differential - 135i & 335i (E87 E90 E92 E93)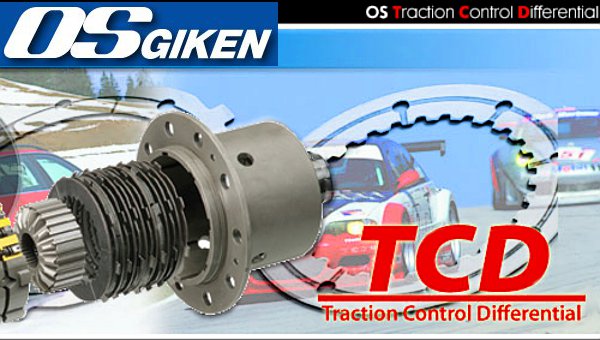 The choice of enthusiasts and racers who want "the best" clutch type LSD available

Up until recently, no one in BMW land knew the name "OS Giken". However they are a practically legendary tuner and manufacture of super high end race parts from Japan. Sensing the BMW market was in dire need of performance differentials, OSG developed their unique LSD technology for the BMW market.
Already rapidly becoming the choice of the Porsche world to greatly improve their stability, the BMW racer and enthusiast can also immediately appreciate the excellent of design and performance the OS Giken offers.
The OS Giken Traction Control LSDs are much like other clutch type LSDs in that they offer the quick, positive response that some drivers prefer vs. a gear based or torque biasing differential...
The standout features of OS Giken involve the advantages of the clutch-style LSD while outperforming and overcoming the limitations of its clutch-type competitors.
Advantages of the TCD:
The OSG TCD line is designed with a proprietary custom "oil pump" system; clutch plates that are specially made to circulate the maximum amount of gear oil through the clutch system. This ingenious strategy actually further maximizes life, smoothness, and quietness of the LSD vs. all others.
For those that want all out maximum performance with the flawless feedback and durability of the Superlock, with an even quieter and cooler running unit- this is the ultimate in stability and response from an LSD.
All TCD differentials feature:
Extreme performance; capable of 100% locking on demand
20 Clutch plates! Many clutch-style units only have between 4 and 8 total!
Incredibly smooth response; suitable for comfortable daily street use, OSG's quietest LSD
"Oil Pump" plate configuration improves on the already quiet design of the "Superlock" series
Durable; extremely long life for both street or track use- tested to maintain performance over a vehicles entire lifespan
Strong; nearly unbreakable- used out of the box by professional drifters and racers
State of the art technology; the TCD line is OSG's highest performing, truly one of the worlds best and quietest operating LSDs

We price match wherever possible! We also stock pre-built complete differential housings with LSDs installed!

**Installation notes**
Most 135 & 335 are equipped with a welded ring and pinion gear, designed to make it nearly impossible for most facilities to install an aftermarket LSD. As the leaders in performance differentials for these cars, we have made the investment in the technology needed in-house so we can supply you a
VAC pre-built performance differential
wherever you live.
As the master importer for Quaife, and a main stocking dealer for OS Giken & Wavetrac, we have the special machines and techniques for fitting this and other LSDs into your OEM differential! No more waiting and overpaying for early cores, chasing shims, and no extended downtime as you send your diff out!
OS recommends the first fluid change after 1 event or 500-1000miles in order to flush out debris left over from the manufacturing process. Subsequent changes are recommended at the normal factory-recommended intervals.
Awesome technical info from OS Giken:
Superior Design
Miniaturized pressure ring and a superior spline-through-side-gear design allows for fitment of more friction plates (up to 2x as many as competitors versions), offering true 100% lock capability.
Patented pressure ring design allows for smooth, progressive locking
Case has a relief cut-out for the cone spring, for minimized cone-spring flexing and enhanced durability.
"Circulating oil pump" clutch plate design allows for cooler, smoother, quieter running
Superior Construction
All components are chemically heat treated for maximum durability
All components are constructed with high-grade steel alloy
Gears are raw-forged for maximum strength
Disks are precision-machined simultaneously on both sides to extremely tight tolerances
Case is billet construction
Tunability
Initial torque can be adjusted by using thicker / thinner cone springs
lock progression timing can be adjusted by using stiffer / weaker pressure ring springs
ramp angles can be customized by swapping the pressure ring and iron cross
disks can be swapped to TCD type for enhanced oil flow properties
Superior Overall Performance
The OS LSD standard spec allows for low preload while still retaining a fully progressive 100% lock capability; basically, the vehicle will feel like driving on an open diff in slow turns / street driving, but can still transmit maximum power to the drive wheels under load.
Operation is ultra quiet, and the progressive locking allows for smooth, predictable locking. Especially when replacing an open diff, equipping OS LSD will completely improve the driving experience while maintaining everyday drivability. With OS LSD equipped, inside wheel spin can essentially be eliminated, and throttle steering becomes unequivocal.
Due to the precision manufacturing, high-grade materials / processes used, and superior design, no break-in period is required for OS LSD, and no rebuilds are required. OS LSD is purposefully over-engineered to offer the best performing, most durable clutch-type LSD available.
Aside from the performance advantage and stock-like feel at slow speeds, vehicles equipped with OS LSD are more stable in all road/weather conditions, allowing for a safer driving experience.
Purchase OS Giken - ' TCD ' Limited Slip Clutch Type Differential - 135i & 335i (E87 E90 E92 E93)
Other products in the category Drivetrain / Limited Slip & Torque Biasing Differential Units:


StoreFront
|
Wheels and Accessories
|
Engine Components
|
Engines - Racing
|
Fuel System
|
Oil System / Engine Lubrication
|
Forced Induction (Turbo, Supercharge, Accessories)
|
Other Manufactures (non-BMW)
|
Electronics & Tuning
|
Exterior, Body & Aerodynamics
|
Intake
|
Exhaust
|
Miscellaneous
|
Pit Equipment / Tools
|
Electrical
|
auto
|
Towing Equipment
|
Brakes
|
Suspension
|
Mini Cooper Catalog
|
Books, CDs, DVDs & Literature
|
Interior & Ergonomics
|
E82 / E87 - 1 Series Catalog
|
E30 M3 Catalog
|
Seats and Accessories
|
EZ-UP Canopies
|
Apparel
|
Cars For Sale
|
Clearance Items
|
Drivetrain
|
Fluids & Oil
|
Cooling System
|
Vehicle Track Timing Products
|
Used & Refurbished Parts
|
Dyno Tuning
|
Package Deals / Kits
|
Carbon Fiber Accessories
|
Factory 'BMW Performance'
|
Safety Equipment
|
Plumbing / Aeroquip
|
Great Gift Ideas
|
New Products
|
Roll Cage Kits
|
Spec Racing
BMW, Racing, Safety, Harnesses, Roll cage, Motorsport, Motorsports, Engine, Engines, Automobile, Auto, Autos, BMW Tuner, Tuner, Tuning, Chip, Chip Tuning, Custom Tuning, Dyno tune, OBD2 Tuning, Performance, BMW Performance, Ultimate, Ultimate driving machine, Machine shop, Camshafts, Cams, Head, Heads, port polish, Port and polish,
VAC Motorsports Online Store powered by Nexternal
shopping cart software