Hofmann Geoliner 660 Aligner
$0.00
Purchase Hofmann Geoliner 660 Aligner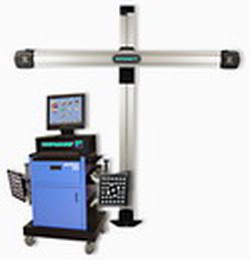 Hofmann offers this State of the Art camera based aligner to the bestand most accurate alignment available. The software package offers Advanced Measurements:
Scrub Radius
Caster Trail
Pro-Ackerman
Rolling Radius
Cross Diagonal
Steering Asymmetry with Diagnostics
This is the same equipment we use to perform our high end alignments and race car alignments.
Call for more info and to speak to our equipment representative.
Purchase Hofmann Geoliner 660 Aligner
Other products in the category Pit Equipment / Tools / Alignment Equipment:


StoreFront
|
Wheels and Accessories
|
Engine Components
|
Engines - Racing
|
Fuel System
|
Oil System / Engine Lubrication
|
Forced Induction (Turbo, Supercharge, Accessories)
|
Other Manufactures (non-BMW)
|
Electronics & Tuning
|
Exterior, Body & Aerodynamics
|
Intake
|
Exhaust
|
Miscellaneous
|
Pit Equipment / Tools
|
Electrical
|
Services
|
Towing Equipment
|
Brakes
|
Suspension
|
Mini Cooper Catalog
|
Books, CDs, DVDs & Literature
|
Interior & Ergonomics
|
E82 / E87 - 1 Series Catalog
|
E30 M3 Catalog
|
Seats and Accessories
|
EZ-UP Canopies
|
Apparel
|
Cars For Sale
|
Clearance Items
|
Drivetrain
|
Fluids & Oil
|
Cooling System
|
Vehicle Track Timing Products
|
Used & Refurbished Parts
|
Dyno Tuning
|
Package Deals / Kits
|
Carbon Fiber Accessories
|
Factory 'BMW Performance'
|
Safety Equipment
|
Plumbing / Aeroquip
|
Great Gift Ideas
|
New Products
|
Roll Cage Kits
|
Spec Racing
BMW, Racing, Safety, Harnesses, Roll cage, Motorsport, Motorsports, Engine, Engines, Automobile, Auto, Autos, BMW Tuner, Tuner, Tuning, Chip, Chip Tuning, Custom Tuning, Dyno tune, OBD2 Tuning, Performance, BMW Performance, Ultimate, Ultimate driving machine, Machine shop, Camshafts, Cams, Head, Heads, port polish, Port and polish,
VAC Motorsports Online Store powered by Nexternal
shopping cart software