Cat Cams - Honda L15 Race Camshafts (Fit/Jazz)
$649.95
Purchase Cat Cams - Honda L15 Race Camshafts (Fit/Jazz)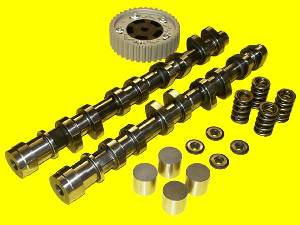 If your looking to compete with your Honda, VAC motorsports offers proven L15a Cat Camshafts for your race vehicle.
Many Durations available
Ultra high quality, consistent manufacturing
Custom grind tailored to your specs available, including forced induction and others.


Duration: 290 / 272° - lift:10.10 / 9.70mm
Duration: 290 / 259° - lift:10.10 / 9.75mm
Duration: 292 / 286° - lift:11.05 / 9.75mm
Duration: 296 / 288° - lift:11.50 / 10.60mm
Duration: 309 / 292° - lift:12.00 / 11.05mm
All pre-engineered and available off the shelf
If your hitting the track with a Honda GD, fight hard with a race cam from Cat!
VAC can get any Cat-cam fast. We are camshaft, engine and racing vehicle building experts, call or email us with your racing needs!
VAC Tech Tip:
These race cams require upgraded valve trains and ECU, they are not suitable for stock or street vehicles.
Purchase Cat Cams - Honda L15 Race Camshafts (Fit/Jazz)
SKU: CAT-CS-L15
Engine Type: L15a
Other products in the category Other Manufactures (non-BMW) / Japanese Performance / Honda Fit/Jazz (GD):


StoreFront
|
Wheels and Accessories
|
Engine Components
|
Engines - Racing
|
Fuel System
|
Oil System / Engine Lubrication
|
Forced Induction (Turbo, Supercharge, Accessories)
|
Other Manufactures (non-BMW)
|
Electronics & Tuning
|
Exterior, Body & Aerodynamics
|
Intake
|
Exhaust
|
Miscellaneous
|
Pit Equipment / Tools
|
Electrical
|
Services
|
Towing Equipment
|
Brakes
|
Suspension
|
Mini Cooper Catalog
|
Books, CDs, DVDs & Literature
|
Interior & Ergonomics
|
E82 / E87 - 1 Series Catalog
|
E30 M3 Catalog
|
Seats and Accessories
|
EZ-UP Canopies
|
Apparel
|
Cars For Sale
|
Clearance Items
|
Drivetrain
|
Fluids & Oil
|
Cooling System
|
Vehicle Track Timing Products
|
Used & Refurbished Parts
|
Dyno Tuning
|
Package Deals / Kits
|
Carbon Fiber Accessories
|
Factory 'BMW Performance'
|
Safety Equipment
|
Plumbing / Aeroquip
|
Great Gift Ideas
|
New Products
|
Roll Cage Kits
|
Spec Racing
BMW, Racing, Safety, Harnesses, Roll cage, Motorsport, Motorsports, Engine, Engines, Automobile, Auto, Autos, BMW Tuner, Tuner, Tuning, Chip, Chip Tuning, Custom Tuning, Dyno tune, OBD2 Tuning, Performance, BMW Performance, Ultimate, Ultimate driving machine, Machine shop, Camshafts, Cams, Head, Heads, port polish, Port and polish,
VAC Motorsports Online Store powered by Nexternal
shopping cart software