AeroCatch - Flush Mount Hood/ Panel Fastening Kit
99.99
96.95
Purchase AeroCatch - Flush Mount Hood/ Panel Fastening Kit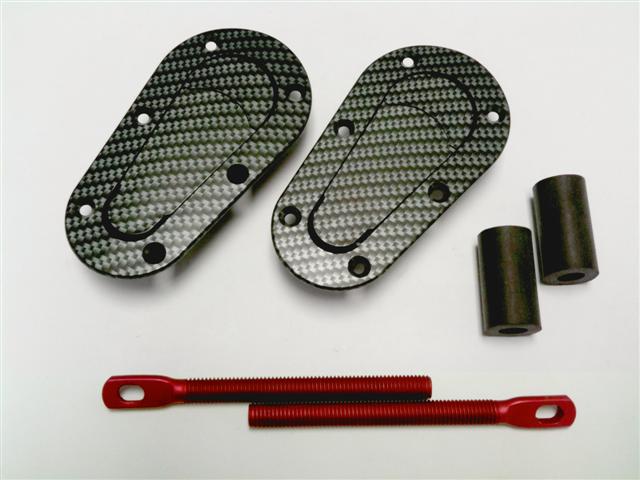 The new, aerodynamically efficient and asthetically styled AeroCatch® is setting new standards in panel fixing for the 21st century, providing a wide variety of fixing solutions for the Motorsport, Specialist Vehicle, Marine, Transportation and Packaging industries.
The AeroCatch 'Flush Hood Fastener Kit' is a lightweight, high strength alternative to "hood pins". Made from strengthened and lightweight space-age thermoplastic containing a hinged and spring-loaded stainless steel pin mechanism; this is the most stylish and aerodynamic fastener on the market.
Perfect, modern replacement for conventional hood pins, latches, door handles, etc...
Flush mount and under mount styles available
Optional key lock version
Black & Carbon look versions
Made in England for top quality and safety

Includes

Latches
Fixing Pins (Not Shown)
Mounting screws
Rubber bump stops
Templates & instructions (Not Shown)

Nearly all aftermarket hoods recommend or require the use of hood pins. With Aerocatch, safety, aerodynamics, and looks are one

Purchase AeroCatch - Flush Mount Hood/ Panel Fastening Kit

Other products in the category Exterior, Body & Aerodynamics / Carbon Fiber Body Panels:































































StoreFront | Wheels and Accessories | Engine Components | Engines - Racing | Fuel System | Oil System / Engine Lubrication | Forced Induction (Turbo, Supercharge, Accessories) | Other Manufactures (non-BMW) | Electronics & Tuning | Exterior, Body & Aerodynamics | Intake | Exhaust | Miscellaneous | Pit Equipment / Tools | Electrical | Services | Towing Equipment | Brakes | Suspension | Mini Cooper Catalog | Books, CDs, DVDs & Literature | Interior & Ergonomics | E82 / E87 - 1 Series Catalog | E30 M3 Catalog | Seats and Accessories | EZ-UP Canopies | Apparel | Cars For Sale | Clearance Items | Drivetrain | Fluids & Oil | Cooling System | Vehicle Track Timing Products | Used & Refurbished Parts | Dyno Tuning | Package Deals / Kits | Carbon Fiber Accessories | Factory 'BMW Performance' | Safety Equipment | Plumbing / Aeroquip | Great Gift Ideas | New Products | Roll Cage Kits | Spec Racing





BMW, Racing, Safety, Harnesses, Roll cage, Motorsport, Motorsports, Engine, Engines, Automobile, Auto, Autos, BMW Tuner, Tuner, Tuning, Chip, Chip Tuning, Custom Tuning, Dyno tune, OBD2 Tuning, Performance, BMW Performance, Ultimate, Ultimate driving machine, Machine shop, Camshafts, Cams, Head, Heads, port polish, Port and polish,
VAC Motorsports Online Store powered by Nexternal shopping cart software