666 - M20 Turbo Adaptor Manifold
$490.00
Purchase 666 - M20 Turbo Adaptor Manifold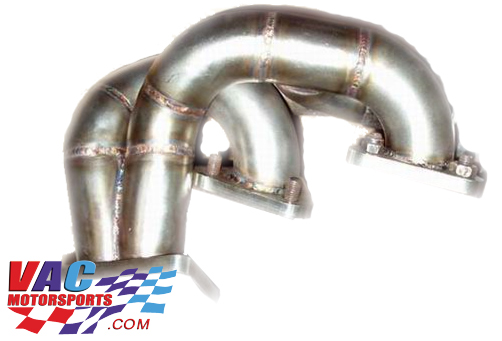 666 changes the game
We are happy to give you this valuable adapter manifold by 666 Fabrication!

We build and carry the best engines and components for your turbo BMW. Now after many satisfied customers have combined 666 manifold with our setups, we offer a one stop shop for all of the above.
These 666 M20 turbo adapters are a cost effective alternative to mounting a turbocharger in your M20 inline-6 powered E30.
Made from 304 stainless steel, these adapters allow installation of a turbocharger by retaining use of the factory exhuast manifolds collector section. This adapter manifold will accept any turbo with a standard T3 flanged turbine. This includes any T3/T4 as well as Garrett GT30R and GT35R turbos. Available for internally wastegated turbos as well as external wastegate setups with a flange of your choice.
This may fit other BMW chassis' with the M20 motor but this has not been verified, does-not fit E28 chassis.

M20 666 Adapter Manifold:


Thick wall 304 stainless steel construction
T3/T4 flanges
Choice of wastegate flange, or internally gated
Economical yet high quality

With awesome performance in mind, These manifold are the highest quality available on the market for your BMW. If your looking to make 400+ wheel horsepower, we recommend considering a fully tubular replacement manifold.
Please Note: These manifolds are hand made with care, one at a time to the customers specifications. They are special order and may take 2-6 weeks for completion.
please call or email if you have any questions.

Purchase 666 - M20 Turbo Adaptor Manifold

Other products in the category Forced Induction (Turbo, Supercharge, Accessories) / Turbo Manifolds (ex. and In.):























StoreFront | Wheels and Accessories | Engine Components | Engines - Racing | Fuel System | Oil System / Engine Lubrication | Forced Induction (Turbo, Supercharge, Accessories) | Other Manufactures (non-BMW) | Electronics & Tuning | Exterior, Body & Aerodynamics | Intake | Exhaust | Miscellaneous | Pit Equipment / Tools | Electrical | Services | Towing Equipment | Brakes | Suspension | Mini Cooper Catalog | Books, CDs, DVDs & Literature | Interior & Ergonomics | E82 / E87 - 1 Series Catalog | E30 M3 Catalog | Seats and Accessories | EZ-UP Canopies | Apparel | Cars For Sale | Clearance Items | Drivetrain | Fluids & Oil | Cooling System | Vehicle Track Timing Products | Used & Refurbished Parts | Dyno Tuning | Package Deals / Kits | Carbon Fiber Accessories | Factory 'BMW Performance' | Safety Equipment | Plumbing / Aeroquip | Great Gift Ideas | New Products | Roll Cage Kits | Spec Racing





BMW, Racing, Safety, Harnesses, Roll cage, Motorsport, Motorsports, Engine, Engines, Automobile, Auto, Autos, BMW Tuner, Tuner, Tuning, Chip, Chip Tuning, Custom Tuning, Dyno tune, OBD2 Tuning, Performance, BMW Performance, Ultimate, Ultimate driving machine, Machine shop, Camshafts, Cams, Head, Heads, port polish, Port and polish,
VAC Motorsports Online Store powered by Nexternal shopping cart software